The Chevrolet Camaro is a car that manufactured by General Motors under the Chevrolet brand classified as a pony car. It appears in some of Driver games.
Driver: You Are The Wheelman
Edit
It appears in mission "Superfly Drive". It has very fast acceleration and speed and judging by performance, it might be fitted with ZL1 engine.
It painted in blue with black stripes.
Driver: San Francisco
Edit
It based on 1967 Camaro SS Cabriolet model with open and closed roof. Judging by the performance, it might be had 350 Cu L35 engine rather than mighty 396 Cu L78.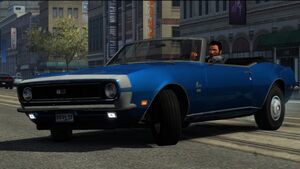 There's also a 1986 Z28 model and 2010 Camaro SS model in this game.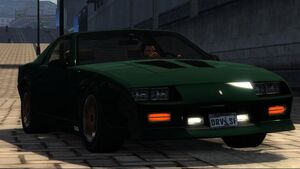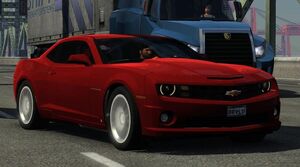 Performance
Edit
(It's for Driver: San Francisco only)
1967 SS Cabriolet model
Top Speed: 130 mph
1986 Z28 model
Top Speed: 139 mph (sometimes reach 143 mph.)
2010 Camaro SS
Top Speed: 180 mph (sometimes can reach 183-185 mph)
It's the fastest car in Driver: You Are The Wheelman.
Ordel William and Darius Spencer drive 1986 model to evade the cops in Driver: San Francisco.
Jones use 2010 SS model as his personal car. Tanner use it later to chase Charles Jericho after know his Challenger R/T is totaled.
Ad blocker interference detected!
Wikia is a free-to-use site that makes money from advertising. We have a modified experience for viewers using ad blockers

Wikia is not accessible if you've made further modifications. Remove the custom ad blocker rule(s) and the page will load as expected.